Comprehensive yet simple, effective and user-friendly interface makes the tachograph analysis system one of the best, which is fully in line with EU and GB Domestic regulations. The data, once uploaded, is fully analysed instantly to view before reports are generated and emailed automatically to the designated receiver. Moreover, it comes with features like in-depth dashboards, comprehensive reporting suite, alerts, infringement management system, apps for drivers, managers and more.
The reporting suite has been developed by industry experts with simplicity in mind and to cover all aspects of compliance, from driver's hours infringements, breaches to the working time directive, driver and vehicle utilisation and manual entry monitoring to ensure drivers are complying with record keeping legislation.
Easy colour coded traffic light system and the ability to report by exception helps spot any issues without having to trawl through pages of reports.
Paired with the user friendly, free of charge Driver & Manager APP which is compatible on both Android & iOS.
The easy to use Driver APP allows drivers to view their current & previous 30 days data as well as their availability to work, tachograph information and infringements.
The Manager APP allows managers to monitor their driver's performance "on the go" and in real time. Infringements can be debriefed using the Manager App too, if required.
Continuous capture of driver and vehicle activity
Interactive Dashboard – highlighting compliance issues at a glance
Full suite of reports incorporating all driver and vehicle compliance, can be generated by user     on-line at any time or set up as a subscription to arrive by email at any given date/time
Visual and interactive calendars showing digital records, manually input records, e.g. holidays,   sick days, non-driving days etc.
Driver performance monitoring scheme – debriefing of drivers with full audit trail
Unaccounted distance monitoring – allows the user to enter reasons against instances of driving without tachograph cards
Driver's Hours Earned Recognition Dashboard for monitoring DVSA KPIs
Only pay for the data uploaded (PAYG)
Vehicle data is analysed at no additional cost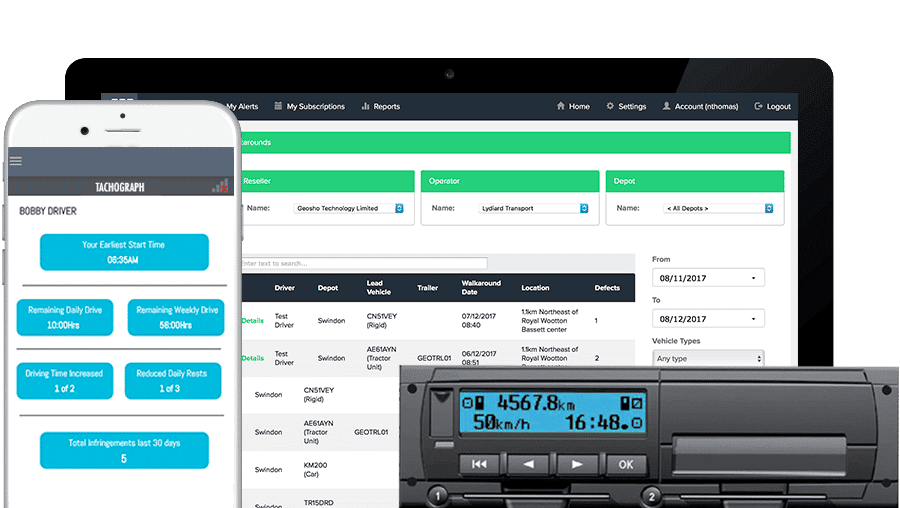 Are your devices Smart Tacho 2 ready? Any new UK registered vehicles will now be supplied with a...
read more